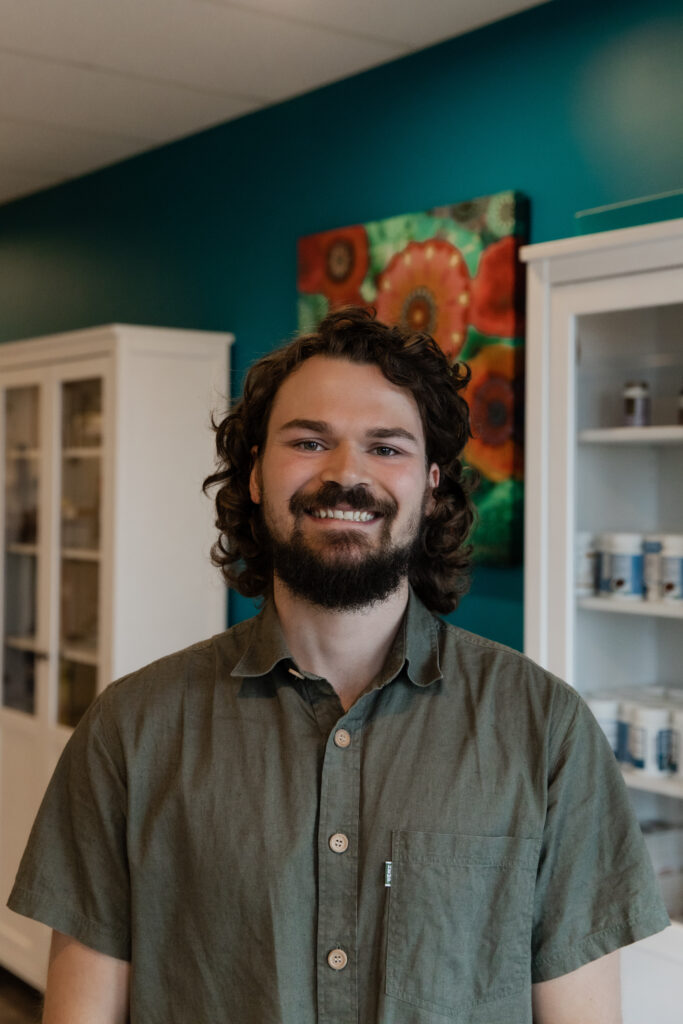 Hi my name is Bob and I am a Registered Traditional Chinese Medicine Practitioner and Acupuncturist. I graduated from Pacific Rim College as Valedictorian, with Honours. As a TCMP I am able to practice Acupuncture, Chinese Herbal Medicine, Shi Liao (diet therapy), fire cupping, Gua Sha (fascia scraping technique), Tui Na (Chinese massage), and moxibustion. Depending on the individual patient, I incorporate some of these techniques as I see fit.
I grew up on a tobacco and ginseng farm in southern Ontario. My early careers involved running heavy machinery at a gravel pit and building barns for a local framing company. When I realised I was looking for something else in my life, I took a one way flight to Victoria to complete a four month Certificate of Holistic Nutrition. During this program I had my first encounter with Chinese Medicine. Immediately after the program had finished I enrolled in the Doctor of Traditional Chinese Medicine program, which I will complete in December 2021 after five years of study.
Traditional Chinese medicine (TCM) is a medicine of patterns. We look at the body and how it is functioning together as a whole, and how it is functioning in relationship to its surroundings. When considering an ailment, like shoulder pain, diarrhea or a headache; we consider the entire experience of the patient. We ask about digestion, sleep, emotions, energy levels, diet, exercise routines, work life, bowel movements etc. We observe what your tongue looks like, feel your radial pulse and palpate the acupuncture channels. We take this all into consideration to figure out which pattern(s) are present in the patient, and they will determine the TCM diagnosis. Using appropriate acupuncture points and herbal medicine along with the other modalities mentioned above, we treat the pattern that is presenting and help the patient achieve a more balanced state. When the body is in a balanced state, the digestion is strong, the muscles are strong and the sleep will be restful; this will help you overcome disease, avoid injuries and live a long and prosperous life!
I am fascinated by the long history of Chinese Medicine. I often find myself looking into the classical Chinese texts when I am searching for answers to modern problems or looking for a new piece of wisdom. Aside from Chinese medicine, I am interested in the more primal movements and mobility of the body, which compliments my passion for rock climbing. I am often researching new training protocols and exercises for strength and mobility when it comes to climbing at the highest level.
I am truly interested in every aspect of health and the human experience, as we ultimately rely on it to live a long and fulfilling life.
Thank you for reading my bio. I hope to see you in the clinic soon so we can work together to get your body working to its full potential!
Bob Malecki R.TCMP